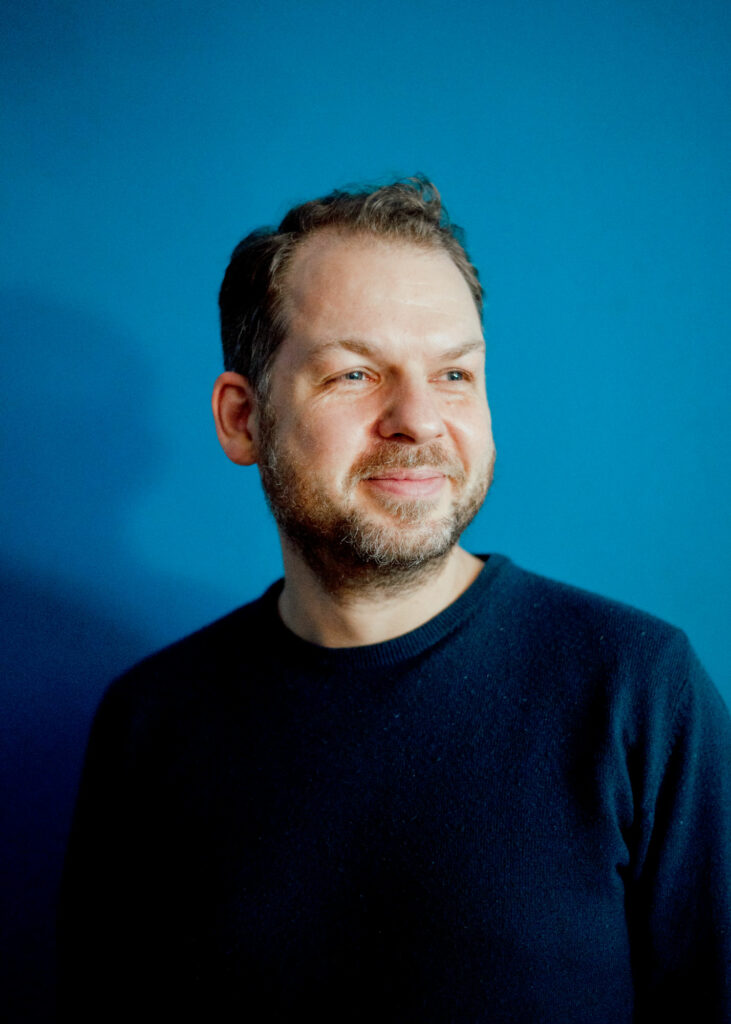 Hi, I am Martin,
co-founder of the design studio TwoPoints.Net, specializing in flexible systems for visual identities. I have taught design systems for almost two decades at over 14 different design schools in Europe.
Why did I specialize in systems?
There was one key experience that taught me that I had to focus on system design. Just after graduating I was extremely lucky to be hired by one of the coolest design studios. With only 23 years I landed a dream job, designing artworks for big music labels like Universal Music and Warner Music. There was so much money in music at that time, that the big labels produced vinyls, cd's, postcards, posters and mini-sites just to test if a band could be successful. Just imagine what they were willing to pay if a band was successful.
My lucky strike came to an abrupt end when the CD market and therefore the major income source of the big labels broke down. CD's have became too expensive at that point and new ways of selling music appeared. The consequences were brutal. For the musicians, labels and ultimately us.  
What did I learn from that experience?
Stay flexible, don't become dependent on one client, market or niche profession. It is better to have many regular sized jobs, than one big one. Clients, markets and even the job description of what a designer does, changes, and when they do, you lose your income. Focus instead on a design approach that allows you to switch clients and markets. How do you do that? Which skill allows you to do different things? Learning another design program? Not really. Programs change too and are often specifically tied to one particular kind of job. No, you need to go deeper, to a design problem all design disciplines of our times have in common. The paradigm change from static to flexible.
How did I change the way I think and work?
In 2007 when I started TwoPoints.Net with Lupi, things weren't so clear to me as they are now. I heard in the back of my head my former teacher Petr van Blokland telling me how he managed to do big projects as a small studio, just by automating design processes, but I had no idea how to make this work for me. 
At that time there was already a big paradigm change underway. Designers reacted to it intuitively by inventing terms like Dynamic-, Generative-, Liquid-, Fluid-, Relational-, Evolutive- and Living Identities, just to mention a few. Often they were nothing else than buzzwords used by the designers to make their work seem unique. No-one bothered to explain what precisely they tried to describe with their term. There was no way of knowing if it was more adequate than another term and if so why. There was no overarching theory, book, course, workshop, master- or doctoral thesis about the subject that would explain how flexible systems for visual identities worked, just an intuition that something was happening that would change our profession fundamentally.
So I enrolled in a PhD program in Design Research at the University of Barcelona with the objective to understand how FVS work. After 10 years of research I came up with a model that helps to understand how flexible systems work. This model was extremely helpful for my students to understand the options they have when designing them.
To whom do I teach flexible visual systems?
During the two decades that I have been teaching flexible systems, I refined my methods and programs, so it would work for undergrads, postgrads and professionals from all design disciplines. In my book Flexible Visual Systems you will get a lot of insights I collected during the last two decades, but I have big plans with this website too. I want it to become the go to place to learn about systems and I want you to become part of the community pushing the limits of system design and making it become an integral part of design education.
BIOGRAPHY
Martin Lorenz (1977, Hanover, Germany) is the grandson, son and nephew of teachers. His escape plan from this family tradition was to become a graphic designer.
He graduated from the Graphic Design department at the Royal Academy of Art (KABK) of The Hague, Netherlands, after having previously studied communication design at the University of Applied Sciences in Darmstadt, Germany. While founding the design Studio TwoPoints.Net with Lupi Asensio and raising two boys, he enrolled first in a Master Degree and later in a PhD Degree at the University of Barcelona, Spain, writing a doctoral dissertation about flexible visual systems in communication design.
Martin became a teacher. Since 2003 he has taught at 14 European Design Schools. He currently teaches at the Bachelor and Masters Degree of Graphic Design of Elisava, Barcelona and the Graphic Design Department of the Royal Academy of Arts (KABK), The Hague.
BOOKS
2021, Flexible Visual Systems, Slanted, Karlsruhe, Available at Slanted
2019, On the Road to Variable, Viction:ary, Hong Kong — Available at Victionary
2015, I Love Type — Collectors Box, Victionary, Hong Kong — Sold out
2013, I Love Times, Viction:ary, Hong Kong — Available at Victionary
2013, I Love Helvetica, Viction:ary, Hong Kong — Available at Victionary
2012, Monograph — Barcelona: A Guide, Creative Review, London, UK — Sold out
2012, I Love Franklin Gothic, Viction:ary, Hong Kong — Available at Victionary
2012, I Love Gill Sans, Viction:ary, Hong Kong — Available at Victionary
2012, Pretty Ugly, Visual Rebellion in Design, Gestalten, Berlin, Germany — Available at Gestalten
2011, Type Navigator, Gestalten, Berlin, Germany — Available at Gestalten
2011, I Love DIN, Viction:ary, Hong Kong — Available at Victionary
2011, I Love Bodoni, Viction:ary, Hong Kong — Available at Victionary
2010, Spanish Advertising Annual, Club de Creativos, Madrid, Spain
2010, I Love Avant Garde, Viction:ary, Hong Kong — Available at Victionary
2010, I Love Futura, Viction:ary, Hong Kong — Available at Victionary
2010, Left, Right, Up, Down: New Directions in Signage and Wayfinding, Gestalten, Berlin, Germany — Available at Gestalten
2010, latino—grafico, Gestalten, Berlin, Germany — Available at Gestalten
2009, Neuland – The Future of German Graphic Design, Actar D, Barcelona, Spain — Available at Actar
2006, The One Weekend Book Series – Graphic Tourism Since Two Thousand And Three – The Collection of Volumes One Through Five, Actar D, Barcelona, Spain — Available at Actar
LECTURESHIPS AT UNIVERSITIES
2020-Now
Bachelor Degree in Graphic Design, KABK Koninklijke Academie van Beeldende Kunsten, Royal Academy of Art, The Hague, The Netherlands
2006-Now
Master Degree in Graphic Design, Elisava, Pompeu Fabra University, Barcelona, Spain
2020-Now
Bachelor Degree in Graphic Design, Elisava, Pompeu Fabra University, Barcelona, Spain
2020–21
Bachelor Degree in Graphic Design, HMKW, Hochschule für Medien, Kommunikation und Wirtschaft (University for Media, Communication and Business), Berlin, Frankfurt am Main, Germany
2020
Bachelor Degree in Graphic Design, HAW, Hochschule für Angewandte Wissenschaften (University of Applied Science) Hamburg, Germany
2015—2018
Bachelor Degree in Graphic Design, Kunstschule (Art School) Wandsbek, Hamburg
2010—2012
Postgraduate Degree in Typography, Elisava, Pompeu Fabra University, Barcelona, Spain
2009—2011
Master Degree in Branding, Elisava, Pompeu Fabra University, Barcelona, Spain
2010—2010
Master Degree in Identity Design, Instituto Europeo di Design, Barcelona, Spain
2009—2012
Master Degree in Cool Hunting, Blanquerna, Barcelona, Spain
2006—2007
Bachelor Degree in Graphic Design, IDEP Institut Superior de Disseny, Abat Oliba University, Barcelona, Spain